Government Financial Services Lawyer Locum 12 month Contract - Full time £26.25 per hour PAYE + £3.95 Holiday Pay London 2x Government Financial Services Lawyers are required to join the Central Government team to provide high quality, client-facing advisory services. My client...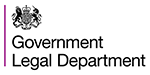 £63,734 to £75,200 (London) £60,532 to £71,000 (National) About Us The Government Legal Department (GLD) is the largest provider of legal services across the many different government departments. Our work touches on most aspects of public life, providing legal advice...
Interim Legal Administrator In-house organisation Milton Keynes Start ASAP £15-20 per hour Interim Legal Administrator is required to join an in-house organisation for a period of 2 months initially and the view to extend thereafter. You will be...
Legal and Inquest Manager London NHS Trust Locum Contract An excellent opportunity has arisen for an experienced Legal and Inquest Manager to join a well-regarded London NHS Trust on a locum basis. For the successful individual, this role could also provide long term...
Inquest Lawyer Coronors Office East Anglia A fantastic opportunity has arisen for an inquest lawyer wanting to work with the Coronors Office in the East Anglia area. Our client at the coronors office is looking for a lawyer to be able to provide a high level of proactive legal...
Sellick Partnership are currently recruiting for a Legal Assistant/ Paralegal Locum for our Public Sector Client based in the Yorkshire Region. The succesful candidate will ideally be looking for full time hours, you will be given the flexibility to work remotely on a hybrid basis. The role...
We are delighted to be recruiting for an in-house Commercial Solicitor to join an organisation based in London. The successful candidate for the in-house Commercial Solicitor post will ideally be 2-3 years plus in PQE and have previous in-house experience, however candidates from other...

Locum Disclosure Paralegal – Hybrid Working – Up to £30 per hour (Umbrella) – East Midlands Venn Group's specialist legal team are thrilled to be recruiting for a Locum Disclosure Paralegal to join a Local Authority in the East Midlands. The position is for an...